Runtime version requires application in the '.cwx' format, created from '.cw' source code by the Development version. This format is not text-based, but contains translated application. Application running in the runtime version cannot be modified and cannot be converted back to the source code. This protects the intellectual property of the author of the application.

Although any application can be run from the development version, runtime version does not save information needed for application editing (which is necessary in the development version). This is why the runtime version launches the same application more quickly and with less required memory. The actual difference in application speed and required memory is not dramatic, but can be substantial (depending on the type of the application).

Runtime version has no visual appearance. No "main window" is a part of the runtime, possibly with the product name and application file name in the title bar. Application appearance depends purely on its author. It is possible to create application in the form of a set of full-screen panels without window frame or as a set of overlapped windows, similar to windows of other applications.

The only exception is the Control Web icon in the Icon Tray. Clicking this icon opens menu, which enables stopping of the application (if the logged user has the rights to do this, of course), open "About Box" with the system version etc.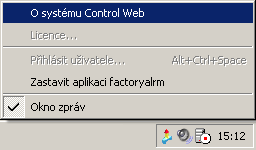 Standard runtime version capable to work on single computer and also equipped to share data over a network by similar ways like previous versions of the Control Web — e.g. using network driver. This version contains all virtual instruments, including the WWW server httpd, the sql instrument to access SQL databases etc.

Runtime for networked applications, enables usage of synchronized and remote data sections. This version is intended for demanding distributed peer-to-peer and/or client-server applications.