Moravian Instruments offers the DataCam cameras equipped with CMOS image sensors.

There are three basic types of cameras based on CMOS sensor resolution:

DC-1500 – with 1,5 Mpx resolution

DC-3000 – with 3 Mpx resolution

DC-5000 – with 5 Mpx resolution

Each type can then be either in a color variant with 16.7 million colors or in a monochrome variant with 256 gray levels.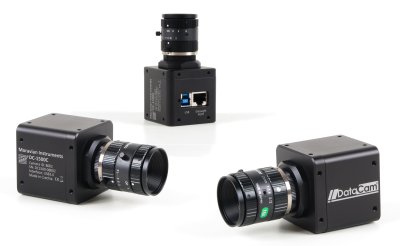 Features of DataCam CMOS cameras
 
DC-1500
DC-3000
DC-5000
Resolution
1140 x 1080
2048 x 1536
2448 x 2048
Max. frame rate (FPS)
60
30
18
Chip size
1/2,9"
1/1,8"
2/3"
Exposure time range
125 µs - 8,192 s
Communication Interface
USB 3.0
Lens Thread
C or CS
Connector
8-pin RJ-45 to connect the lighting unit
Dimensions
50 x 50 x 48,6 mm
Weight
165 g (without lens)
Power supply
from USB
Consumption
350 mA
Temperature range
-20 °C - +50 °C
Small DataCam CMOS cameras are built into a robust aluminum body with high-quality finish. Camera housing and dimensions are the same for all models and are shown below: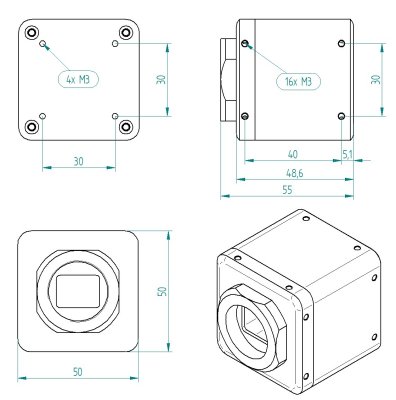 DataCam CMOS cameras feature mounting holes for easy attachment to various racks or brackets. These holes are located on the back wall and on the sides of the aluminum body. They consist of four M3 holes. Thread depth for attachment is 7 mm.
A tripod mount bracket is available for mounting the camera with a tripod screw. The drawing of the tripod bracket shown in the following illustration shows the layout of the threads and mounting holes with dimensions in millimeters:
New CMOS cameras are fully supported by Control Web, starting with version 8.0.23. So you can work the same way with both existing CCD cameras and new CMOS cameras. There is nothing to change on your applications. However, you get higher resolution and much higher frame rate with traditionally very high image quality.