The DataLab IF series of industrial bus interface devices was expanded with a new DataLab IF/CAN device. This interface device communicates with a host PC through fast USB connection and offers two independent, isolated interfaces for CAN bus. Communication speed of the CAN bus is 10 to 1000 kbit/s. The device is powered from USB connection.

The CAN bus was originally developed by the Bosh company in the 80ties for usage in automotive industry. The bus was approved as international standard ISO 11898 in 1993. From that time nothing prohibited wide spread of CAN bus not only among european car makers, but also in many industrial automation applications.

The CAN bus has several mechanisms ensuring error-less operation even in highly jammed environments of asynchronous engines, pulse power supplies, frequency converters etc. Flexible communication speed allows communication with devices afar only few meter as well as several kilometers. The transport medium of the CAN bus is twisted wire pair.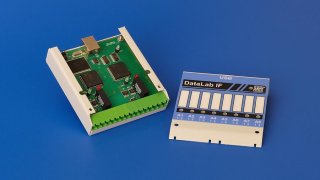 two independent CAN buses

CAN bus communication speed from 10 to 1000 kbit/s

fast USB connection to host PC

USB bus powered device

CD-ROM with documentation and software (Windows system drivers, driver for Control Web process control software package etc.).
Included with DataLab IF/CAN device is the driver for Control Web, which allows Control Web applications to communicate with almost any CAN-enabled device. The driver handles both CAN buses independently, so the host PC can communicate over two separate buses at once. The device supports receiving and transmitting of messages of the CAN 2.0A link layer and also supports CANopen protocol. It also possible to configure the device to work in the "raw" mode—the driver works as common CAN device and do not use any higher-level protocol.
Current pricing is available on the web site http://shop.mii.cz/.